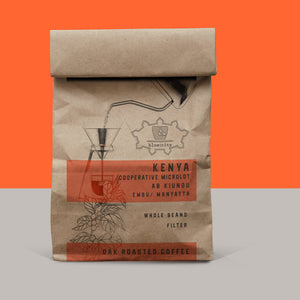 Blue City Roasters
Kenya AB Kiungu #105
Sale price Price €16,95 Regular price
Tax included.
Shipping
calculated at checkout.
Origin: Thambana Farmers Co-operative Society
Location: Kenya, Embu
Altitude: 1700-1800 m 
Type of Processing: Washed
Flavours: Discover the essence of Kenya in a cup with AB Kiungu #105. This exceptional coffee delights with its intricate structure, jucy sweetness, and captivating flavors of jammy fruit and jasmine. The lovely floral scent delights our senses and there is a geisha-like taste sensation. It is a milder cup and low in acidity.
Environment: The factory is giving out the fruit after pulping for the farmers to make compost. 

Background story:
As for Kathima from the same Cooperative, this Kiungu AB was one of those coffees that was discovered through blind cupping in origin. The Kathima factory is under the Thambana Cooperative society, located in Embu, a neighbouring region to Kirinyaga at the slopes of Mount Kenya. Kiungu is in Nginda Location, Manyatta division of Embu County, 16km from Embu town, located on the rich green slopes of Mt. Kenya almost on the Equator. Name of Farm / Cooperative Thambana Farmers Co-operative Society. Kiungu is the name of the factory.

We have seen way more great coffees from Embu lately than in the past. They are supported by Tropical farm management, a company that supports small holders to increase their coffee production as well as help the factories on quality control and traceability related to processing.
Summer Tip: Delicious as Cold brew!