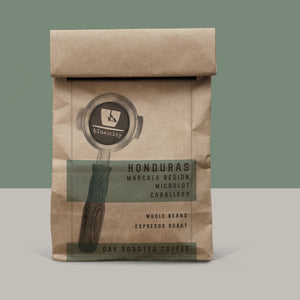 Blue City Roasters
Honduras Caballero Microlot 2
Sale price Price €16,95 Regular price
Tax included.
Shipping
calculated at checkout.
Origin: Caballero Farm
Location:  Honduras, Marcala
Altitude: 1600 m
Type of processing: Washed
Flavours: Indulge in the rich and bold flavors of this sweet Caballero Farm coffee that is an Honduran gem grown in the Marcala region. It showcases a well-structured rich sweetness and layered brown sugar notes. Great balance of fruit and flavours of purple fruit as well as chocolate and brown spice. Low in acidity.
Environment: The Caballeros are extremely committed to the environmental sustainability of their farms. A lot of their energy and focus goes towards improving the soil of their farms to ensure a healthy growing environment for their coffee shrubs. Therefore, they produce organic fertilizer made from cow and chicken manure mixed with pulp from coffee cherries and other organic material. This is used in addition to some mineral fertilizer to ensure that the coffee plants get the nutrients they need. Oranges, avocados, flowers, bananas and other fruits are also grown at the farms, but mainly for the pickers to eat and to create biodiversity at the farms that ensures good growing conditions and shade for the coffee trees.
Background story: The Caballero coffees are named after Marysabel Caballero, even though it is actually both Marysabel and her husband, Moises Herrera, who create these beautiful coffees. Moises always says lovingly that it is Marysabel who is the star. It is no surprise when you meet Marysabel, she is warm and charming and together they are some of the most genuine and lovely people. Marysabel Caballero and her husband Moises Herrera are working with over 200 hectares of land, planted with coffee. They are 2nd and 3rd generation coffee farmers and have been rewarded many times for his commitment to developing quality coffee in Honduras. They got 3rd price at the annual SCAA "Coffee of the year" competition in 2010. They have also done well in the Cup of Excellence for many years, as one of the few producers from their area.
Summer Tip: Delicious as a flavourful Coldbrew!