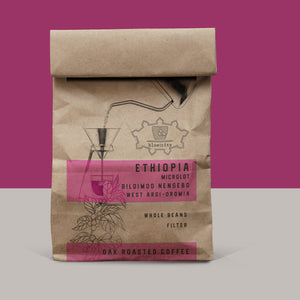 Blue City Roasters
Ethiopia Bildimoo Nensebo #5
Sale price Price €16,95 Regular price
Tax included.
Shipping
calculated at checkout.
Origin: Bildimoo Nensebo #5
Location: Ethiopia, Werka, West Arsi (Oromia)
Altitude: 1993 - 2150 m
Type of Processing: G1 naturals
Flavours: Discover the essence of Ethiopia in a cup with Bildimoo Nensebo #5. This exceptional coffee, processed naturally as a G1, delights with its intricate structure, harmonizing sweetness, and captivating flavors of white florals, bergamot, grapes, plums, and citrus.

Social Responsibility:
Tariku Coffee engages in social responsibilities by investing back into their community. Work opportunities are generated for the local citizens, especially women, and social welfare. They employ 20 permanent employees and 600 workers.
Tarku Kare claims to donate part of the earnings to charity by supplying school materials to children from low-income families and offering financial help to the families. Additionally, Tariku offers training at the farm to help farmers achieve great quality coffee in order to incentivise the production of specialty, and they have as well created a platform for local growers to help them retail their products at the national level.
Background story:
This coffee is new to us! Tariku Coffee works to achieve the very best G1 Ethiopias in West Arsi and Sidamo, and has been awarded for the great results. They name their selection after two coffee concepts, "Sidama Coffee" and "Werka Coffee". This particular lot is what they call a "Werka Coffee", meaning it is made out of cherries that have been harvested and processed in Werka, West Arsi (Oromia)