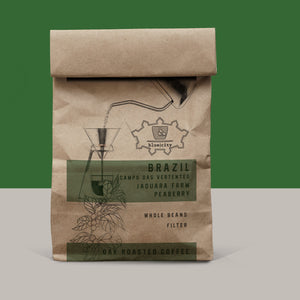 Blue City Roasters
Brazil Jaguara Peaberry Coffee Beans Filter
Sale price Price €16,95 Regular price
Tax included.
Shipping
calculated at checkout.
Farmers: Natalia & André Luíz Garcia
Location: Jaguara, Brazil
Altitude: 1040 m
Type of processing: Natural
Flavours:
Embark on a sensory adventure with this Brazilian Jaguara Peaberry coffee. Immerse yourself in its intriguing flavors of nuts and dark chocolate notes. It is flavor intense with a pleasant long-lasting aftertaste of apple, creating a truly memorable coffee experience.
Environment:
The farmers at Jaguara farm are deeply committed to sustainability, using technologies that have low impacts on the environment.
They employ different cultivars, integrated weed management, pruning, and other techniques. The nutrients balance is supplied with organic compounds associated with rock minerals.
Background story:
In the past, we did not work much with Brazilian coffees, as it is a country well covered for supply in most markets.
However, when we heard about Natalia and the work her husband Andre is doing as an agronomist, we found an opportunity to work with people in a way that could be interesting and add value to producers and our customers.
The history of Jaguara farm began with a trio of friends, Antonio Wander, Rubem Carlos, and Rubem Murilo, who planted the first coffee trees in 2001 in the Campo das Vertentes region. The name of the farm, Jaguara, is derived from an important Quilombola community surrounding the farm. Today, the farm is owned by Andre Luiz Garcia, his wife Natalia Moreira, and their son Benicio Garcia.
They acquired the farm from the previous owners and have been working together to develop it, leveraging their strengths in different areas of coffee production.
André is an agronomist and a researcher at Procafé Foundation, specializing in pruning and producing coffees. The farm is situated next to Sao Joao del Rei, a historically significant town in the colonization of Brazil, famous for gold mining but not traditionally known for coffee production. Despite this, the farm's high-altitude, mountainous terrain has proven ideal for coffee cultivation.
The soil type on the farm is red/yellow volcanic with medium texture typical of the savanna region. They cultivate Acaia, Yellow Catuai, Yellow Catucai, and Mundo Novo coffee varieties. André's work with Procafe provides valuable insights into different coffee varieties and how they can be grown on his own farm. Currently, they are processing coffee exclusively as Naturals, but they are young and adventurous, always seeking to experiment within this realm of processing.
Try this exclusive Brazilian Jaguara Peaberry coffee and indulge in the exceptional flavors cultivated with dedication and sustainable practices. Each cup is a testament to the harmonious blend of nature, skill, and passion that defines Blue City Roasters' commitment to providing the finest coffees for our valued customers.